When you purchase an accessory for your HiFi, like a stand or some shelving for your turntable, you expect to pay the market value for the product. Yes?
In the world of mobile phones, TVs, washing machines etc, as a consumer you would buy which ever offers the best deal.
The simple definition of the Laws of Contract, dictates that there is an offer followed by an acceptance from potential buyer, it does not say it has to be a bargain or reasonable price. Vendors are at liberty to sell whatever price they see fit (and in most scenarios the market defines what is reasonable).
However, in the world of HiFi this appears to have turned on it head and it seems, this to be prevalent in niche markets such as HiFi accessories, where exclusivity and mysticism and ample supply of snake oil is the hook that catches the unworldly prey and this is the rope that pulls the donkey (not sure what I mean by that but I like how it sounds!)
On this occasion I've put on my Luddite hat, doesn't mean that I sit on that stool and, I always urge people to be careful but not be afraid of taking risks, OK that's an oxymoron.
I was on the Etsy website today, just browsing mainly because my office network had crashed so I couldn't access my files, so I decided to kill time.
Oh my, look what I've come across it's insane, it may be HiFi rack made from Solid Oak but look at how much they're asking. Honestly I can buy the same wood, have it cut specially and the costs will be approx. £200 or £300 the most.
I'm not trying to single out Etsy, because some of the stuff they sell are amazing such as the Argon speakers with Kevlar cones, not bad for £94.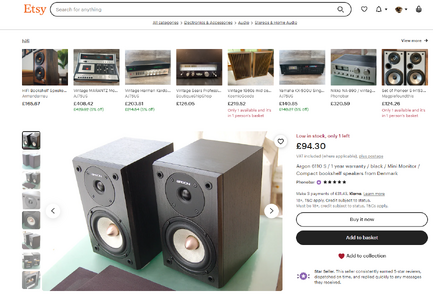 It will be interesting to hear from you, any instances of products relating to HiFi, that you personally thought was a complete rip off?
Last edited: