Surround sound speaker systems are the best way to experience the rich audio detail from entertainment products. There are different kinds of home theatres with surround systems and rear speakers and they normally feature many inputs, including HDMI optical, and AV, everything you need for setting up your connection with your TV, DVD, gaming consoles and other devices. Here is how to set up a surround sound speaker system.
'Step 1'
Outline your equipment
Ensure you have all the necessary equipment and accessories to set up your surround sound; if you have a 5.1 specification, that translates to 5 speakers and 1 subwoofer, for 7.1, 7 speakers and 1 subwoofer. Also, you will need an audio receiver for surround sound because of the multiple channels. Lastly, you will need, your speaker wires, cables (HDMI, optical, AV), and dedicated subwoofer cable.
'Step 2'
Position the center, left and right speakers
Place the center speaker directly below the tv, the left and right speakers at left and right positions on each side tilted in the direction of the listener at 30 degrees.
​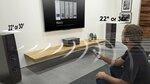 'Step 3'
'Position the surround and rear speakers'
The left and right surround speakers should be positioned facing the listener directly on each side. For 7.1 specification, place the rear speakers behind, but still facing the listener.
'Step 4'
Position the subwoofer
Position the subwoofer at a corner or behind a wall. This positioning amplifies the bass effects of the surround system
'Step 5'
Connect the tv to the audio receiver
Use an HDMI and optical cable to connect the tv to the audio receiver
'Step 6'
Connect the speaker to the amplifier
Using the speaker wire, press the down clip to connect to the speaker and connect the other ends to the back of the receiver respectively.
'Step 7'
Connect the subwoofer
Connect the subwoofer to the receiver using the dedicated subwoofer cable.
'Step 8'
Connect other devices and test your surround sound
Connect your other devices; DVD, console to the receiver using the HDMI or AV cable. Once everything is connected. Plug your devices in and test your surround sound as seen on the header.
'With the above steps you can now easily set up your surround sound speaker system'