Hello all,
I have been running my Wharfedale Valdus 400 with the Arcam Alpha 9 amplifier for a very long time as my secondary system for parties, DJing, transporting. They have traveled and lived many hours of parties and BBQs around Europe....
It has been over 23 years of careful abuse and they still ROCK!
However, my Arcam is starting to struggle, especially with the POTS cracking a lot changing inputs and sometimes i get lucky other times i do not. I am going to attempt to clean them with contact cleaner and see if this helps.
I have connected the hack with RCA cable to bypass the POT however this removes all tweaking of the amp, which is ok when needed only.
The main question is:
With modern amps that have come out since the launch of this Arcam in the 90s if there a good replacement with a similar warm and powerful sound? I bought this one 2nd hand for £150 which today I think was a bargain. I do not have much budget to hand, so would happily look at a new modern amp or again check an older 2nd had one.
Wharfedale Specs:
Enclosure Type: 2 way bass reflex
Recommended Amplifier: 25 - 150 Watts
Frequency Response: 40Hz - 20kHz
Sensitivity: 92dB
Nominal Impedance: 8 Ohms
Drivers: 1 x 28mm dome tweeter
2 x 200mm cones
Arcam Specs:
Output 70W + 70W (8 Ω)
140W (4 Ω, one channel)
Recovered frequency band Line : 3 Hz to 90 kHz ± 3 dB
Phono : 20 Hz to 20 kHz ± 0.5 dB
High frequency distortion factor 0.02% (60W, 8 Ω, 1 kHz)
Power 100 VAC, 50Hz/60Hz
Power consumption 550 VA (max)
THE SET-UP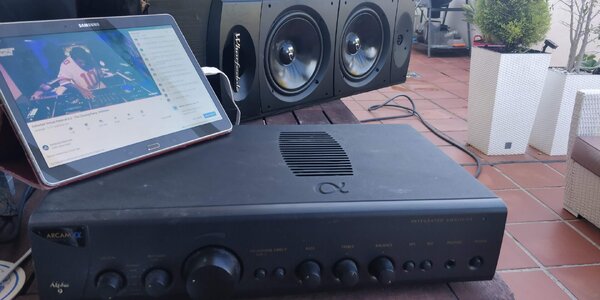 Last edited: