Dear What Hi Fi'ers,
I've recently connected my old speakers (Pioneer SP-BS22-LR) and my new speakers (Kef Q300) to an Amp I thought would be enough (yamaha a-s500). I bought the amp used but in very good condition - i think, but I'm not an expert.
I connected the amp and the speakers and it all works fine up to about 30-40% power (depending on the music) but at some point the amp just turns off abruptly aftera while.
I checked the malual and here is what is says: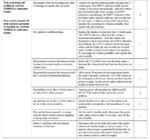 Could anyone help me shed some light on what I'm doing wrong and or how to narrow down what's the exact issue?
Is it because the two speakers have different impedance (Pioneer is 6ohms and Kef are 8)?
Or is it because it doesn't have enough power? Or maybe it's something to do with the wires?
I'm a total noob, so if it's obvious please don't get frustrated!
Anyhow, thank you very much for any help and insight you can provide!
Most