Without a shadow of a doubt, the new Eversolo DMP-A8 (with dual top of the range AKM chipset) due to launch January 2024 is going ruffle some feathers in the DAC/Streamer market.
If the DMP-A6 is about £800-£900, how much will the DMP-A8 cost £1500? I wonder, if they will also release the Master Edition to cement the line?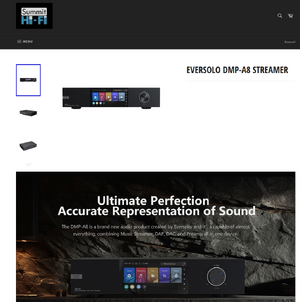 Specifications: Model: EVERSOLO DMP-A8 Display: 6" LCD touchscreen Internal Memory: 4GDDR4 +64GeMMC DAC: AK4191EQ+AK4499EX Audio Processor: XMOS XU316 Op-amp Chip: OPA1612 Power Supply: High-quality, low-noise linear + digital dual power supply SSD: Support M.2 NVME 3.0 2280 protocol, up to 4TB...
But hey, that's just my opinion.
What new products do you think will be the game changers 2024?
Last edited: