Hi!
I have cero experience setting up hifi systems, so this question may sound silly. Sorry about that.
Can I use the "Recorder (Audio) Out" from the Amp and hook it up to an Active Subwoofer's input using RCA cables?
Here are two pics for better reference

Above is the Denon PMA800NE with no dedicated Sub Out, but I thought maybe the Audio Out would do the same job with RCA cables.
Below is the Sub's back panel with the RL In for RCA Cables. It has a crossover switch to select from 60hz to 90hz.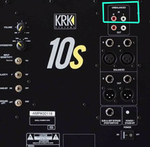 Thank you very much for any feedback!