Hi all.
In the interest of my newly found enthusiasm to actually paticipate in these here forums. It's been years since I last entangled myself with a forum. It is something I find both Entertaining, Educational and a great distraction from life.
So here is me setup as is….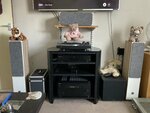 Click for full size, and yes the lounge needs some TLC…
I am researching for a new stereo amplifier. I only want a 2CH high quality unit, preferably one with AptX HD Bluetooth Audio etc. I sold the Dali Vokal centre speaker as well as the Yamaha NS51 style surround units. Whilst the audio quality was pretty good from the Onkyo RX820; It has had to go as it isn't quite right for me. I am going back to "keeping it simple, stupid" uncluttered feel.
It is also relevant to mention that the Onkyo's days were numbered for a while as I wasn't using my AV System and a bit of a think told me thatI really want to switch the Onkyo out for something more audiophile than AVnut-job;
note: I am guilty of both
I will be making a new thread asking for advice in Finding the right balance of features, price and quality for the new amp. Bearing in mind that it will be driving the Dali Oberon 5's and for my movies the Cambridge Audio SX120 sub too. I typically watch SciFi and Fantasy TV and Movies; but I do love my documentaries and am capable of many a binge fest
So here I am; proud to be a total nerd and SciFi/Fantasy lover. I read a lot (Stephen King, Jean Auel, Terry Prattchett, etc), I have lego models in my display cabinet. I love all things computers; having grown up during the home computer revolution ending up with me and my CBM Amiga 2000 just after leaving school.
Yep - thats all I can think of for now folks - I do make more sense when I am not having a bad pain time.