As some of you will know I love old Pioneer amps from the 1970s and 80s. I owned a SA-706 which I kept for 17 years. Loved the character and the dancing VU wattage meters. Not saying all old Pioneer amps were top notch, they produced some real plumbs but...
I could die for something like this.
Even if they were just a statement piece, what a sassy looking amp.
Add in the ludicrous cost of a well-sorted version, would it sound better than equivalent modern midrange amp? I doubt it.
There are many others such as Marantz, JVC, Sansui etc etc...
Lots of boys toys knobs.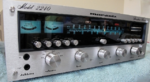 Discuss.