Got a speaker and wondering how to easily hang it on the wall? This is a 5-minute job and requires few tools such as a drill machine, a bear claw hanger and friction bumpers. Hanging speakers are quite popular due to their small size and the fact that they hang on the wall and do not take additional space in the room/lobby. Here is how to hang speakers on the wall.
Step 1
Place locator in the keyhole slot
Place the metal locator in the keyhole slot on the back of the speaker.
Step 2
Tape the locator
To fix the locator in the keyhole slot, tape it town with any tape such as cello tape. Make sure you tape is tightly so that the locator does not move.
Step 3
Mark the position
To mark the desired position on the wall, firmly press the locator against the wall. Doing so will leave a little mark on the wall.
Step 4
Install a bear claw hanger
Install a bear claw hanger by using a drill machine. Make sure the bear claw hanger sits perfectly over the mark located by the locator.
Step 5
Apply friction bumpers
Before hanging the speaker on the wall, apply friction bumpers on the bottom ends of the speaker. Doing so ensures that your speaker does not hang loose or move freely while the music plays.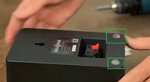 Step 6
Hang the speaker
To hang the speaker, carefully lift the speaker the place the keyhole of the speaker over the bear claw hanger. Make sure the friction bumpers are well stuck and aligned after hanging the speakers.
​
There you go! You have successfully hang your little speakers on the wall with the minimum of hassle.