I recently bought a pair of B&W CM1's. I hardly need another small speaker but I loved the look of the little things.
Now, I am not a fan of the brand. My last aquaintance was with the Formation Duo's which I sold after about 4 months. A costly mistake. Tweeter integration and directivity issues made them a less than enticing listen. Most of today's lower lines of the brand have similar problems. - I really don't know why they do this (well, I do... really). B&W can build proper speakers but they choose not to, 700 series and down. They mostly sound like s"**".
So, I had a brief Google on the old CM line, specifically the CM1's. A lot of bass, slightly depressed midband, upper treble slightly elevated but nowhere near as much as just about anything coming after (incl S2's).
Long story short, partnered with an Audiolab 6000A they rock, soothe and make lovely music. - A Hegel H95 does slightly better but is not really needed. Bass is outstanding, approaching floorstander depth once you get it right ... ! - That is with room boundary enforcement. I actually resorted to using half open foam bungs that came with my quads. - The Audiolab has excellent bass and control for the money so is a perfect addition.
The real star of the CM1/ Audiolab pairing is the richness, scale and refinement. It sounds truly expensive totally defying what you'd expect from a slim amplifier and tiny Tod speakers. The 50watt/ch amp powering these perhaps 82db sensitive speakers perfectly to what most would deem annoyingly loud levels with real authority. Far removed from most budget systems with their squeeky clean, detail hyping but often anaemic sound. Better still, it sounds good at low volume too. - The CM1's never 'shout'. A problem common with as small speakers with elevated mids/highs once volume increases and bass drivers run out of puff/db's being overtaken by the rest. The little B&W's will run out of breath eventually but you can enjoy a symphony or Hip Hop to fairly high levels for such a small speaker (and nominal 50w amplifier).
Downsides ... yes. I can imagine some newer members to Hifi complaint about a 'lack of perceived detail'. - Nothing is lacking of course but it's not thrown into ones face. It's all beautifully integrated and not hyped that's all. Treble is super refined and oh so sweet. - This is an 'image between and behind speaker plane' system. If you want constant excitement (even if it's not on the recording) ... this is not for you. Buy some cheap active boxes or one of the newer B&W's. Likewise if 'big is beautiful', look elsewhere.
Dynamics are a tad stifled compared to big speakers, inevitable but again, they seem to defy logic for this tiny duo. The Sheffield drum solo (almost) having the impact of the big Stirling BBC References.
Proof that B&W can make reasonably priced speakers you can listen to without having your ears taken off.
Build quality is very good with heavy duty Zinc/iron long throw bass/mid driver baskets, sizeable magnets and a high quality tweeter unit (with their proprietary 'Nautilus' tubes. I had to take one out/apart to remove a small dent from the diaphragm. Heavy Neodymium magnet and a bolt into nuts fastening rather than the usual wood screws. Same for the bass driver. Internal brazing horizontally too. Solid engineering. They weigh 6.7kg each and feel like a solid lump. I read somewhere that that they seem like 'Audio Jewlery'. I agree.
They were also still made in the UK, if that matters.
So, a system that can be had for under a grand (add a CCA for streaming) and that reaches higher than you would reasonably expect. Looks very smart too and the wife would hardly complain.
They are not the best speakers in the world by a long stretch but for 200 quid s/h you will likely not find better, especially new. That is if their sound signature appeals. As for build, look at spending a grand. However, a reasonably good amplifier with control is a pre requisite. The Audiolab is a good starting point.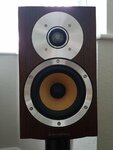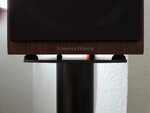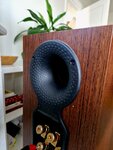 Last edited: