Finally got bitten by an auction purchase.
Saw a set of speakers in the local auction. B&W DM10s. Cones were intact. Marking to exteriors indicating long term storage. Left a small bid on the books.
Well we won. Bowers and Wilkins were then paid for and collected.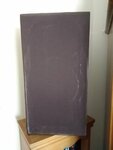 Both sounded marvellous, highly detailed then the bass on the right hand speaker disappeared.
Pulled the grill off, took the bass cone off and went in....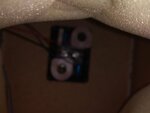 The should be two blue resistors in there. There was one intact one...
Speaking to B&W technical services I got the circuit diagram and found that one had indeed gone.
Consult with local hifi expert for repair. The cost of the capacitors is £4.50 each. The cost for removing and replacing the 4 will be £20.
That's £5 more than I paid for them. But boy, are these worth saving. Better than the Tannoys that were on mother's system before....