I've currently got these 4 with me: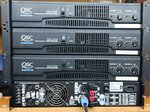 ...and I started to think about their value.
Each is rated at 1200W per channel into 2 ohms.
They've been blasting out vinyl, CD and MP3 😱 in a nightclub for 17 years - needing only a couple of replacement mains switches between them.
As far as I know, the model has never cost more than £1000 to buy (significantly less I think).
All 4 would probably cost less than any equivalently specced hi-fi power amp?
Combined, they weigh more than I do and yet..... THAT fuse costs considerably more money!
(I thought about switching each to bridged mono and bi-amping my speakers - they say you can never have too much power - but with a potential peak 4,800W per channel, I didn't want to see my little PMC standmounts in flames 🔥)
For those that like to see inside things - you can't miss the main cause of the weight: