Hi there,
I am putting together 2x 5.1 TV sound systems in 2 different rooms. The Back L/R and Front L/R are going to be in the ceiling. I've gone for Monitor Audio 2x C265FX's for the backs and monitor audio C280's for the fronts.
I only have space for a 180mm or smaller in height centre speaker. No challenges on width or depth although I don't really want one that sticks out too much. TBH, the wider the better as it's going underneath an 82" TV. The reason for the restrictions is the TV and middle speaker are going to be housed in wall cabinetry that is already there.
See below: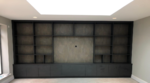 I'm looking for recommendations on <180mm high centre speakers.
I'm looking at the Klipsch R-34C, Monitor Audio Radius 225 and KEF t301c.
Does anyone have a view on which of these is the best? should I be sticking with monitor audio as these are the ceiling speakers? does it really matter? Can anyone recommend a different choice?
I also need to think about AV receivers and subs but that can wait for now.
thanks very much