​
DAC or Digital Analog Converter is a device that converts digital signals into analog signals. It is widely used with mobile phones to improve the sound quality of headphones/earphones. DAC requires a simple USB connection from the mobile phone to work. Music enthusiasts worldwide use DACs to improve audio output. Here is how you can connect a digital analog converter to a mobile phone.
Step 1
Connect USB cable to the phone
Connect one end of the USB on-the-go cable to the USB port on the phone which is a c-type charging port normally.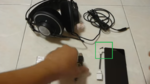 ​
Step 2
Connect the USB to the USB plug
Connect the other end of the USB on-the-go to the USB plug.
​
Step 3
Connect DAC to the USB plug
Connect the other of the USB plug to the Digital Analog Converter.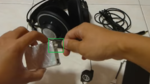 ​
Step 4
Turn on the DAC
Switch on the DAC by turning on the power button on the device. A little LED light will glow when the DAC is switched on.
​
Step 5
Connect the headphones
You need a 3.5 mm jack or C-type connector headphone to connect with the DAC. Simply plug in the device to your DAC.
​
And this is it, now your mobile phone is connected to the digital analog converter. You can play any media on the phone.