Past and Preset...
I currently live in a rented flat that came with garbage furniture that I just can't throw away. I sold my beloved vintage Pioneer 8" speakers and amp, figuring I would better find something small. Went from an Audio Pro portable, to some entry level small Edifiers to a set of their mid range active speakers.
Sounded awful and spent the last couple of years or so playing with positioning, getting a dac, stands, etc. They sound much better now but I still find them very sensitive to positioning and also power level. These things would be OK on a smaller room where you wouldn't move too much from their toe-in sweet spot.
I distrust their sound and there's not much I can further do, so I'm looking into upgrading, possibly to a passive affair like the one I had before. Give me too much variables and I go insane.
The possible upgrade?
I can get a pretty good deal on a set of Q Acoustics 3030i and I was attracted by them because of the wide soundstage and being apparently forgiving of positioning. At least going by the reviews. I can't really listen to them first.
My issue is gain the room. This is what I have to deal with:
I spend 99% of my time on that chair and desk on the upper right corner and that space has ceramic floor but I do need to constantantly roll my cahir around the area.
The 3030i are very deep but I could eventually try them on each side of the blue shelf on the left (around 2 meters wide). I would probably be a bit off axis.
What's harder is distance from the wall. I know I can plug the bass reflex port but still.... So I'm thinking, if I want to sort a problem out once and for good, why not go with proper floor standing speakers? Something not as deep but with more volume This is already insane money for speakers for me but maybe the 3050i? The Fyne Audio F302?
Or go smaller to something like the Wharfedale Diamond 12.1?
The idea is having a pair of speakers that don't sound awful in any place of this room, knowing someplace will be better. BTW, I could also try this set up: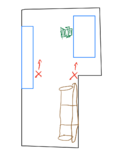 Budget with an amp (something simple and cheap like the Onkyo A-9110-S but to be discussed), really stretching it is I guess a €1000. Let's try to stay well away from that though, when I began thinking on this I came up with a €500 solution
Sorry for the long post but I have a lot of doubts and don't really know how to narrow the issue further...