In short, my use case: in my home office, I have a pair of Dali Zensor AX 1, connected to a high-end PC through SPDIF/TosLink. Here I'm listening to music exclusively from my PC (Tidal HiFi/master and CD).
Situation: My SoundBlaster Z's SPDIF out died; I want something better than the motherboards output; so far I'm happy with my Dali AX 1 and don't necessarily want to change but would like to get the best quality out of it.
I know that Zensor AX was considered poorer than its passive counterpart due to its cheap amp and DAC (the
thread I found here
); I was wondering if I'm about getting a new sound card anyway, would it make sense to rather go analog with a quality card/external DAC (thinking of Sound Blaster
AE-7
or
AE-9
) supposing if that way I would skip/replace the DAC with something better than the integrated?
On the other hand, Dali has an interesting statement on the product sheet, telling:
"Both the analogue signal and the signal from the Bluetooth interface is passed through the A/D converter and converted from its analogue state into a 24 bit 96 KHz digital signal"
- if I get this correctly, analog is first converted to digital as well, so in the end I'm still better with using feeding signal?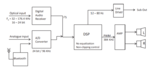 ...or eventually, should I just try to sell these speakers and get a decent amp + passive Dali, or a
real
active speaker?
Any opinions are appreciated.
Last edited: