I'm renovating my living room and thinking of doing a 5.1.2 setup. Mostly optimising for movie watching, but also occasional gaming and enjoying music. The room is roughly 14 sqm (150 sq ft).
I've never done anything even remotely similar, so looking for all sorts of advice and guidance. Also, if you have a good tutorial for a first-time builder that you would recommend, I'd love to hear about it! I appreciate any tips in advance!
I was thinking of the
following layout: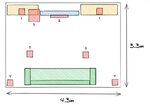 Movie screen (marked with blue colour in the picture) will be some 3m away from the audience (green colour). There are some shelves on the left and right of the screen (yellow colour)
I was aiming for a 5.1.2 setup:
Fronts - Monitor Audio Bronze 50
Center - MA Bronze C150
Woofer - MA Bronze W10
Surrounds (or "Rear"?) - MA Bronze 50
Height - MA C165
I was pretty happy with Monitor Audio in the past, although only in a simple stereo and never in surround setup, but heard good things about them and they have amazing support.
For the Height channels, I was hoping to install them in the ceiling (ceiling height is at around 255cm from floor level)
I am on a modest budget, so I was looking at some of the low-end speaker series, but am open to suggestions. Intention was to be pairing this with something like a Denon AVC-X3700H.
Video-wise, I was planning to run an HDMI cable through the wall, which would require some 7-8m in length.
In addition to general recommendation, I had a few other questions:
a) Would a 5.1.2 setup work well here? I was considering 7.1.2, but given the budget and relatively small room, I thought it may be an overkill.
b) Can Front speakers (marked with number "1") be installed on existing book shelves? Given that they would not be free standing on the firm ground, would the possible vibration of the shelves negatively affect the sound quality? Alternatively, the speakers would have to sit in front of the shelves, which would not be ideal. The shelves are wooden for what it's worth. I was thinking of putting them at ear height (e.g. around 1.6m height)
c) Are the proposed positions for side speakers (marked with number "4") suitable for Surround channels? At which height would you place them?
d) Given that the speaker cables will run through walls, I was thinking of fixing a speaker panel plate onto the wall behind the amplifier. Is there anything I should be on a lookout regarding the type of the panel or wiring to/from it?
e) In terms of HDMI cables, I'd like to make this future proof and looking at 4k-grade cables. What would be a reasonably priced cable to look for, suitable for in-wall routing?
Thanks a lot in advance!
Last edited: