Aw thanks
Vincent Kars
- I could happily live with that.
I didn`t have a colour telly until I was in my mid-thirties - out of choice.
I had a very good stereo , loads of books and a sax and I was never in so I didn`t need or want one.
I`ve not watched broadcast TV for over 25 years and don`t miss it one bit.
I hardly watch English language films anymore - they are so lowest common denominator, predictable and boring.
A lovely friend gave me a pocket transistor LW/MW that is from 1960 and it works great.
I just bought a pocket shortwave radio for forty quid and it is fun - It is going to Calpe, Spain on Monday together with my tenor sax.
I am not taking the laptop or my Dali Katch - no need - I`ll be live.Time to unplug - the sax doesn`t need batteries either.
Because I`ve zigged and zagged - lived in and visited over 60 Countries I know that American and British is not the majority in the World - there is another 200+ Countries out there.People should unplug, travel and read more.
My teacher said in 1972 that television damages your brain - she was right.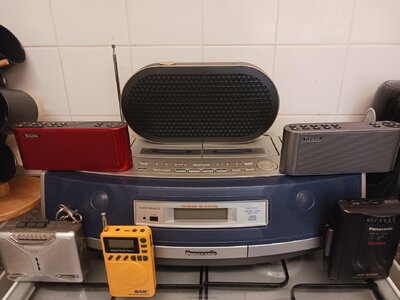 I like radios the best out of all my electrical junk.
Since 1972 - I`ve had hundreds - I`m not exaggerating - I can mend stereos, TV`s etc and have been programming and building computers since 1980 so I collected lots of kit.
Last edited: