At the moment I'm doing more and more of my listening in my office. I use my Mac mini as a source. I currently have a set of Logitech Z523 connected to my monitor, which is connected by HDMI to the Mac. I've had them for about 10 years.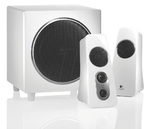 My partner has a set of Harmon Kardon Soundsticks III in her office. I like the sound much better than my Logitechs. but unfortunately I can't find any new ones for sale in NL.
Since the speakers would only be connected to computer I don't need any wireless connectivity (Bluetooth or AirPlay).
Could anyone recommend an upgrade for my current Logitech set without any connectivity I don't need? I only need a minijack connection. It's mainly for listening to music.