I can't seem to track down any of my old system threads so I'm starting fresh. A couple of days ago I hung up my new Samsung 65Q90T, absolutely blown away with it. I'll get some decent pictures up in a few days when all the Christmas junk has been tidied away.
As a stopgap, here is a picture of my cat "helping" hang the tv.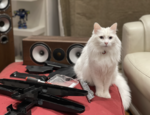 system is a Samsung 65Q90T, Samsung K8500 uhd Blu-ray player, Marantz SR7007 receiver, Monitor Audio BR5, BX center, BR1 as surround, REL T3 sub.
A lot of people say they have a bright room, but my room is what you would call problematic 😂 it's got a giant bifold door and two velux skylights, it's painted white, the ceiling is at an angle with 13 spotlights and it all catches the sun. As a bright and airy living space it's wonderful, for watching tv it can be a challenge.
Firing up the tv for the first time on Christmas Day I was ecstatic with it. We didn't get as much tv watching done as hoped as whilst I was fitting it the Christmas tree decided to fall over with no input from me!
The anti reflective glass is amazing. When you are watching something really dark you can't see your own reflection staring back at you even in daylight. The HDR performance is insane, we watched infinity war and end game back to back last night and the additional brightness is genuinely shocking in places (in a good way). The bit in frozen 2 where Elsa is trying to run across the sea at night was another stand out, when the lightning hits it actually startles.
I haven't touched the audio setup in a very long time. I do need to replace the bluray player though as it is noisy, in the final third of the film it seems to spin up. Any suggestions for a quiet uhd player with dual hdmi that doesn't cost the earth would be appreciated.
Last edited: