Hi all,
(First post back on the new forums
)
Is anyone here using a Sonos Beam with an LG OLED 55B8SLC (the crescent stand variant)? I'm potentially going to put these two together, but I can't find anywhere the information to confirm if the Beam fits between the crescent of the TV table stand. It's a discontinued model now (not sure if the current 9 series uses the same stand?) so I can't check it in a shop etc. According to the specs of both units, the Beam will
just
fit below the bezel of the TV, but that's all I can find out. The location for the TV is fixed and the depth can't be altered, so I need the Beam to fit between the feet to get it in!
I've searched the Internet and couldn't find the answer, couldn't see any threads on here showing pictures, so anyone with first hand experience please.
(Edit - I've found an image of what I'm trying to achieve, although I realise this is a different Sony screen and soundbar combo. See below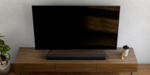 Thanks in advance,
Last edited: