Home theaters are also commonly referred to as theater rooms. They are home entertainment system that greatly enhances the audio and visual effects, watching movies or listening to songs. Once you set up and install the 5.1 home theater system correctly, you will be able to experience the surreal excellent visual and audio effects at your home. This home theater system has many features and allows you to connect to a TV through HDMI, connect your DVD or other devices to the home theater system as well. Here is how you can install the new home theater system by following the steps below.
'Step 1'
AV receiver and 5 speakers
Generally, the 5.1 home theater system comes with an
'AV receiver'
and
'5 speakers'
with 100-watt power and impedance of 8 ohms. In general, you can find two floor standing tower speakers (front left and front right speakers) as shown below the other three speakers are the bookshelves speakers that should be placed behind


'Step 2'
Place the front three speaks in plane to the TV screen
As described in the below image, place the
'Left, Center and Right Speakers'
in plane to the TV screen' . Place them at approximately 3 feet from the ground to ensure that it aligns with your ear.

'Step 3'
Place the Surround Channel speaker
Now,
'Place the surround channel speakers, left surround and right surround '
right behind you approximately 2-3 feet above the ear level.


'Step 4'
Place the subwoofer near the front speaker
To ensure maximum low frequency impact,
'Place the subwoofer near the front speaker' .
You can place them near the right or the left speaker.
​
'Step 5'
Connect the speaker wires to the amplifier
Once you have placed the speakers and woofers at the right place, you need to
'Connect the wires to the amplifier' .
As shown below, connect the speaker wires from the ports described as background, center and front to the amplifiers.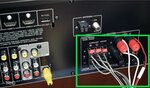 ​
'Step 6'
Connect the FM antenna to have the FM facility
Additionally, as shown below you can
'Connect the FM antenna'
from the port described as FM to enjoy listening to FM with the excellent speakers and woofers.
​
Step 7 '
Connect the wire from the HDMI out to TV
If you want a home theater system to be connected to the TV,
'Connect the wire'
from HDMI output port' to the TV. You can also connect a DVD player with your home theater system from the HDMI inputs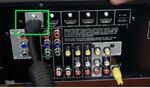 'Step 8'
Connect the powered subwoofers to the amplifier
'Connect the RC pin that comes from the amplifier's output'
to the L mono input of the sub-woofer. Remember, here the phase must be in normal position.
​
Configure settings in AV receiver
You will find the settings options as shown in the below image. Here, click the
'Configuration'
option to configure all the speakers and woofers settings to enjoy your new 5.1 home theater system.
​
'Step 11'
Select the configuration options
Now,
'Select the configuration'
for the front, central, surrounding speaks with larger, small or normal options. You can also set the
'Cross-over'
frequency and also configure distance or equalizer settings
'You can now easily set up and install the new 5.1 home theater system by following the above steps'