Hey folks,
Sharing my current setup... Comments, criticism and suggestions are all welcome
-Bowers & Wilkins CM10, ports sealed
-McIntosh MA-352 integrated
-SVS pb-1000 pro:
-Sealed mode​
-Connected using high-level/speaker line​
-Low-pass set a 37hz, slope -24db, gain -10db​
-Cambridge Audio DacMagic200M
-AudioQuest XLR RedRiver
-Some cables from MonsterCable with Nakamichi banana plugs that were offered to me with the CM10s
-Onkyo TX-SR 608 for HT (Not in use for now)
Very fun combination. Sound is warm and generous. Female vocals are silky with a very light tuby coloration that I like. Bass is tight although there is some bloom in the mid bass, which sometimes can make male bass voices sound "chocolaty" but never muddy. Bryan Adams' voice for example keeps all of its grit and rasp. However, it helps with the drums: In addition to panache and oomph, they are surrounded with air and a warm blanket of smoothness. Soundstage is wide, and becomes immense with the Sub on, which is blended beautifully with the speakers to my ears. I can only guess it's working when I turn it off. The sub mainly takes care of frequencies below 40hz, where the CM10s start to roll off.
My next move would be to add absorbers and diffusers in the room.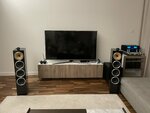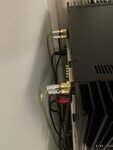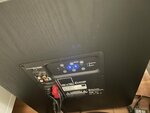 Cheers