Sometimes you get the best features when you pay for software. I recently upgraded an old version of Airfoil to the current one,
https://www.rogueamoeba.com/airfoil/mac/
. The developers have stopped Airfoil for Windows in 2019.
One of the really useful features of Airfoil for Mac is that you can stream any sound from your Mac to any Airplay receiver. In our case I stream the sound of a page in Safari to our Yamaha network receiver. When I use NordVPN and set it to Great Britain I can then access the wonderful sound of any BBC Radio station in 320kbps. You can even use your iPhone or iPad as a remote control for your Mac when you install an app.
The 320kbps streams are the best quality audio I've ever heard from BBC Radio. Why would anyone listen to crappy DAB?
Here's a picture of what the controls on the Mac looks like: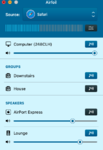 Airfoil for Mac is great software and is really useful if you have a Mac and one or more Airplay receivers.
Last edited: