Our solar system is (give or take) 4.57Bn years old, so pretty much everything you can physically see is that age or younger - everything terrestrial has been recycled by plate tectonics etc etc. Most meteorites are the same age as the solar system, and have been subjected to minimal processing in comparison.
Some contain pre-solar gains and CAIs (Calcium/aluminium rich inclusions) which formed before. Earlier this year, analysis confirms the SiC (silicon carbide) content of the Murchison Meteorite to be the oldest matter yet analysed, possibly as old as 7bn years - alas it's hard to tell what's SiC and what's not with the naked eye, but no matter. So, older than any light visible to the human eye, this might contain the oldest material you'll ever see: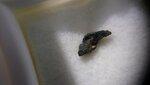 How's that for off topic!