Brand new product for 2021.
Boss WL30XLR 2.4GHZ wireless links, sold as an A/B set for prices ranging from 250-299.
Estimated run time of 14 hours on one AA battery, intended for
powering dynamic microphones (?). A weighted range of 110DB and 20hz to 20khz.​
Sennheiser has a competing product with a substantially shorter run time, better dynamic range (120db versus 110) and options for discrete lavalier mic setups in addition to other variations. Price for the Sennheiser is approximately the same.
B&H Photo
has a better price for the BOSS, $257 versus an average price of $299.
SweetWater
Audio offers this and many other Hi-Fi options.
Applications for this range from live sound (spoken word) events at remote venues to streaming at home to a live audience, cutting ties to the maze of cables that traditional sound setups require. No third party dependencies exist in order for this to work, simply plug it in and go.
I doubt this would work for anything other than mic's but if I had it, i'd probably try it just to see how it fares.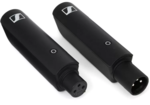 ​
Sennheiser remotes shown for comparison.
Last edited: