So here's my system. As you can see it's a Yamaha based HT-to-be system, that I bought about 3 years ago. I shure don't have the proper room yet to make it all sound great, but then it is only ten more weeks before I'll get the keys to my new house. So here goes! The Yamaha RX-V650 AV receiver with my Yamaha DVD-S557 DVD player. They are connected through a Monster Digital Coax cable (don't know series or type). You see my Sony-Ericsson W800i phone connected to it for some I-pod-ish digital fun, but not quite that, really.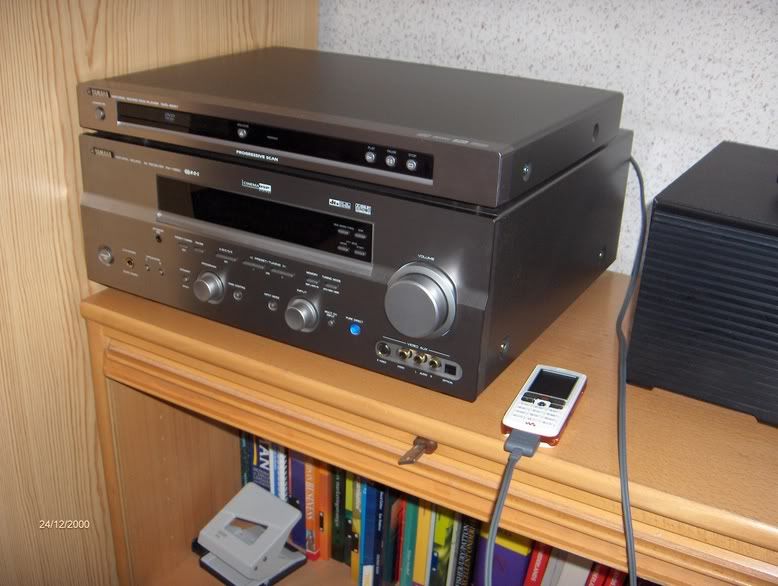 Then my speakers. They are Infinity Beta 10's. Even though Infinity is quite common as a brand, it might have seemed like an odd choice, but while auditioning they were much better then others in the same price range ('bout 130 pounds back then).They are connected with no-brand-in-particular speaker cable (not bad ones though) of uneven ends and they are both placed in one corner of my room about 50 cm apart, on a shaky closet, 6 feet up from the floor. It's the only place where I have room for 'em now...hardly ideal isn't it...?
But this will all change soon, when I get a proper living room to set it all up. The setup I have in mind will hold both Yammie parts, with two MA RS6's (to start with), a CD player and a 37 inch LCD screen. Below is pic of the room that will hold it all (5x5 metres), so that will be a bit of an improvement! Only 10 more weeks!