Not a final setup, as I'm only half moved house due to this lockdown malarkey... Proper rack will follow at some point.
Lounge rig: Arcam CD72 (although connected digitally to amp so kinda irrelevant), Audiolab 6000A, Mission 752 with upgraded Peerless D27TG tweeters, biwired with Audioquest FLX-Slip-stuff. Rega P2 not in shot as I currently have nowhere to put it.
PC rig: USB to Cambridge DacMagic Plus , Marantz PM6004, Dali Zensor 3. Housebrick speaker stands to follow!
Spare kit with nowhere to go:
Dali Zensor 5
Mission 751
Mission 753 (currently up on blocks)
TDL Studio 0.5, RTL G20, RTL3SE
Mission 780 (second edition)
Q 3020
Rotel RA-02
Rotel RC-03 and 3xRB-03
Pioneer A400 x2
Rotel 930AX
Rotel 935BX
Marantz CD6000OSE
Philips CD618
Yeah maybe time for a clearout...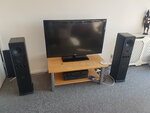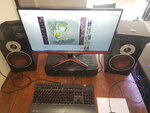 Last edited: