From an Englishman
. Originally from Oxford, UK and lived in France since 1993. Always been interested in Hi-Fi.
My kit's nothing spectacular (and mostly getting on for 20 years old I think), but it still sounds great to my old ears, for both music & Blu-Rays. Pioneer BDP-LX71 front end. Amps are Cyrus (AV5 & 5 x Apa7s). Speakers are all Monitor Audio (Studio 60 fronts, Studio Centre & Studio 6 rears), apart from the sub-woofer which is a Rel Stadium III.
Apart from Hi-Fi, my interests include rebuilding an old '70s kit car, and running around wet muddy fields whilest hitting my friends with steel weapons.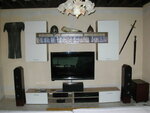 Last edited: