I was a bit of a plane obsessive when I was a kid, so have been interested to see this whilst on hols: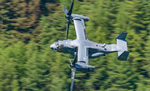 A V22 Osprey it seems, though it doesn't look like that are in service in this country.
Also saw what I am 97.865% certain was a Spitfire, doing loops around the area in very close proximity to another piston engine plane - looked radial-engined and yellow. Now given the value of Spitfires, they wouldn't be used for training, so we were wondering if it was to do with preparation for an air show. But then again, given the value of Spitfires, why be in such close proximity to another plane? Filming for something?
Aaanyway, so anyone else who is (or used to be) a plane nerd, favourites? You can have one piston and one jet.
I'll have a P51 Mustang and an F-15 Eagle, thanks.