Cos I`m new I`ll give you a brief history of my tellys.
Hello all first of all can I say I don`t watch mainstream TV at all or watch blockbusters or any advertised American or British shows for various reasons.
I watch a lot of foreign TV, old films, documentaries and drama.
Up until I was 30 I had a 1960`s Sony second hand black and white 11 inch TV.
I didn`t need anything better because I was never home and when I was I read, played tenor sax, listened to shortwave radio, played cards and listened to music on an old stereo system.
Then when I was over thirty I got 14" Sony trintron which was my first colour television and it was great for viewing horse racing on teletext 3-4 foot away.I remember I had to get a colour TV Licence because my mono Daewoo VCR was colour and I could only pick up B&W telly haha!
Then in 1998 got a 28" Toshiba widescreen CRT which looked like a cinema to me - that telly still works fabulously and has a subwoofer and 65 watt built in amp.
About 5-6 years ago I got a second-hand 32" CRT Panasonic Quintrix which was brilliant but I couldn`t even lift it , next I got a bargain Tesco Teknika 50" FHD - which still works fine that I gave to my friend.
A couple of years ago I got a cheap Hisense 50" 4K QLED which got stolen by burglars.That got replaced by another cheapie Hisense but a 55 inch 4K QLED one.
I`ve always had poor eyesight so I got a cheapie Chinese projector and 120" motorised screen - but it`s quite blurred and dim - I think it`s 720p which looked bad on a 12 foot screen.I had it on ten minutes then packed it away - haha!
Then I thought I need something bigger and brighter so without reading any reviews I got a second-hand but unused telly from a friend because he`s not allowed to wall mount it by his landlord.Because my mate owed me quite a few favours I got a big Panasonic which has a box the size of a single bed.
It`s never been out of the box - I think it`s the new top of the range one and it weighs a ton - got it for £180 with delivery.
My friend said it has a soundbar built in below the screen, plus sub and top and side mounted speakers.
I don`t know anything about televisions and neither does my friend so I`m guessing it`s the new Panasonic 77".
I`m just waiting for the van to come and seen a cantilevered 109cm wall-bracket for it which should go on my solid brick wall; it`s rated 60 kg - telly is very heavy.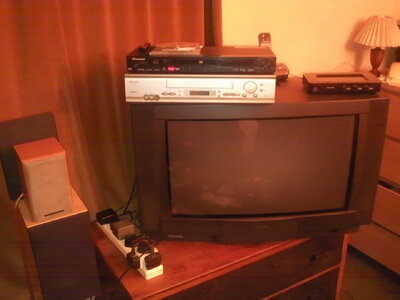 Are Panasonic tellys better than my Hisense because I need it as a vision aid - I`ve had eyesight problems all my life.
Will the 77 inch look a lot bigger than my 55 inch - I don`t know - I`ve never had a big good telly.
I have no home cinema amp because I have no space in my living room or space for rears.2.1 sound will do me I have a little Onkyo micro system and a little sub.I have to plug the laptop into the telly because I can barely see the 15 inch screen.
Any guidance or advice is gratefully appreciated on wall mounting installation because I`ve never put anything big on a wall.
Last edited: