You can play and enjoy streaming platforms such as Netflix and all the online media by using a network media player. In short, a network media player can turn your normal LED/LCD TV into a smart TV. You'll require a few cables and a stable internet connection for this to happen. If you're wondering how to connect your network media player, follow the easy steps below.
Step 1
Connect network media player with TV
You need to connect the network media player to the TV using an HDMI cable. Here is how to do it.
[*] Connect one end of the HDMI cable to the output port of Network Media Player.
[*] Connect the other end to the input HDMI port on your TV.
Step 2
Power on
Switch on the power supply to the TV and network media player and wait for the devices to turn on.
Step 3
Select the language
On the TV display, you'll need to select a language for your network media player. Click on your preferred language.
Step 4
Connect the internet
You need to connect your TV and Network Media Player to stable internet. Both wired and wireless connection options are available. Here's how to connect to the internet.
[*] Switch on the TV and select
Network.
[*] Select the
wireless mode
of connection.
[*] Select
Wifi Scan
to find your network.
[*] Choose your network from the list of available WLAN.
[*] Enter the security key/password and click finish.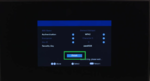 [*] For a
wired connection
, directly connect your ethernet cable to the TV.
Step 4
Save the general settings
Once you've selected the language and established a connection to the internet, save your settings for future use.
Network Media Player is a great alternative to expensive Smart TV.