Assertion: I have not started this thread to slag-off records. I love records and embrace them in my home audio system, although in a minor way compared to digital. I just became aware that I've mentioned several times in threads how a record's linear velocity decreases as the stylus moves closer to the label, and cited that as a reason why records can often sound worse at the end of each side. But what I haven't ever done is explained what I meant by all that, for those who haven't a clue what I'm on about.
So here goes. Long thread alert.
This is your average LP, but with its label blanked so this thread doesn't quickly degenerate into a conversation about my musical preferences: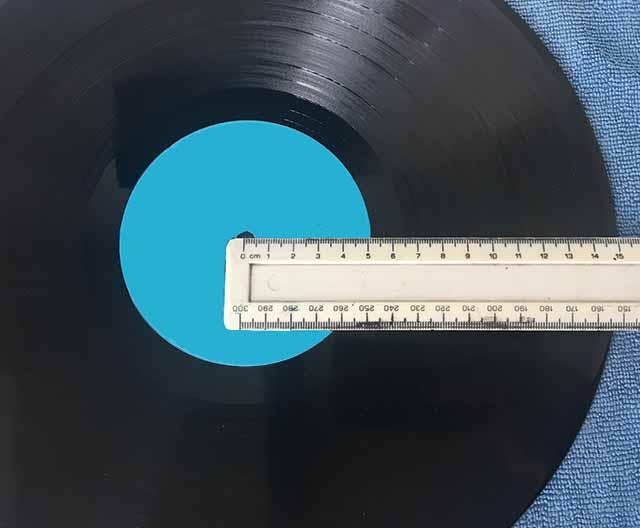 An LP record is typically 30cm diameter with a 100mm label. We know from our high school maths that the circumference at any point is 2πr or πd. So at the very outer edge (where obviously there won't be any music, but work with me here), that's a circumference of (30cm x 3.142) = 94.3cm. The last track is commonly at around the 7cm or 8cm radius, as you can see from this stereotypical 7 track LP. The circumferences at those points are 50.3cm at 8cm radius and 44cm at 7cm radius, so potentially less than half the outer circumference.
Ok, so why is this important?
Unlike a CD / DVD / BluRay disc, a record has a constant rotational velocity. An LP rotates at 33.33rpm. So at the very outer edge of an LP, were there any music in that section, 3,143cm (94.3cm x 33.33) of vinyl passes under the stylus every minute. There's 60 seconds in a minute, so that's (3,143cm / 60sec) 52.38cm per sec (or 20.6 inches per sec, in old money). This is what's called the linear velocity.
However, by the time the stylus reachers the 8cm radius (50.3cm circumference), the linear velocity has plummeted. 50.3cm x 33.33rpm = 1,676.5cm per minute, or (1,676.5cm / 60sec) 27.9cm per sec (11 inches per sec). At 7cm radius it's 24.4cm per sec (9.6 inches per sec).
Ok so why is even *that* important?
With analogue recording, be it vinyl records or tape, one of the contributing factors to fidelity, especially with higher frequencies and complex waveforms, is the speed at which the medium passes the reading/writing device, be that the stylus or tape recorder head. There's literally only so much content you can cram in the plastic or magnetic particles in short distances, and because high frequencies and complex music have tightly-packed waveforms, there comes a point where the medium is travelling too slowly past the stylus/head to store the waveforms without deterioration (distortion in other words).
Engineers can manage the effect of this deterioration in various ways. One way is to only cut short records which don't surpass 16-17 minutes per side, reducing the need to cut into any plastic closer than 7.5cm from the centre. Another clever trick is careful track sequencing, so that quieter tracks are closer to the inside and the floor-filler head-banging stuff is further out. This can be challenging when recording e.g. classical pieces. 1812 Overture is a perfect example, where the 16 minute opus builds from near silence to a loud climax. Luckily, 16 minutes is not too difficult to cut without compromise, especially when much of the piece is quiet, so the grooves in those sections can be very close together giving more space for the end.
This sounds all doom and gloom, but over the years, much progress has been made to help. Better quality vinyl and better stylus profiles, which more accurately track the teeny tiny undulations at the end of a record, both contribute massively. But sadly, the best stylus profiles don't come cheap.
A factor I haven't mentioned is stylus alignment, which warrants a whole explanation in itself. But in a nutshell, because the arm follows an arc (except on linear tracking turntables), the arc impacts the angle the stylus tip sits in the groove, which inevitably changes slightly throughout the duration of a side.
As a consequence of all these things, LPs often sound their best two tracks in from the start. The outermost track, although with the fastest linear velocity, can often have louder vinyl roar, and also the stylus alignment is probably not at its best there. So it becomes a balancing act between the linear velocity and the stylus alignment. All things considered, records probably sound best at their 9cm -13cm mark, which by no coincidence is where the average pop LP's best songs and singles are cut (compilations aside, obviously).
Happy to discuss and explain further, but let's keep it civil. This is not a "let's slag off records" thread.