The Roksan Caspian M2 developed a fault and instead of repairing it I decided to buy a new amplifier.
The Musical Fidelity M2si is a brilliant amplifier, reduced from £800 to £500 ex demo which I will pay off in 6 months, £50 deposit.
After listening to it in the demo room with excellent speakers I was worried I would not have the same experience at home, as it turns out it sounds just a good.
So I am super happy and thought I would share my day.
Specs : 72 Watts into 8 Ohms, 137 Watts into 4 Ohms, 25 Amps peak to peak. 96dB SNR.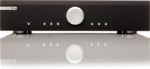 Last edited: