Greetings, I'm Wil. And a decade ago Ken kindly inscribed "Good Friends" for me: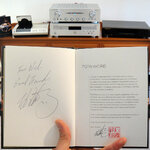 Today, 8th of May is the day KI was born. Because I had sent him a celebratory message each year, I…
I've Registered so as to share, prompted by recalling this What Hi-Fi? recognition:
View: https://www.youtube.com/watch?v=16d1WuS3oxo
Best wishes.