I have stacked Concept 20 loudspeakers at home
:
Its performance reflects my choice of amplifier.
Simply, I've tried 5 distinct amps (as well as in bi-amp, and tri-amp combinations).
Backstory, in 2007,
Ken Ishiwata stacked Performance 6 loudspeakers
so as demonstrate capability of MA-9 monoblocks:
"
Connected in parallel, the speaker arrays presented an impedance of around 3ohms to the [MA-9S2] mono amplifiers, which were thus delivering some 700w into each channel, more than enough to produce a pretty dramatic effect.
"
This is a graphic I did, summarising the-memories, when I sent news to Ken that I'll-be-stacking-too: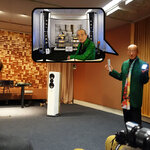 N.b. Concept 500 is D'Appolito in-one-box.
And Tim de Paravicini also has demonstrated with stacked LS3/5a:
Remember, if you too want to try stacking speakers, my advice is
firstly have a suitably powerful amp
, then 2 pairs that are the same model of loudspeakers.
And final remark,
sweet-spot
for my stacked Concept 20 is ears parallel to tweeters. Okay because it's luckily the height of my seated position. Treble clarity diminishes if I stand up (which I sometimes especially do for those recordings where…