Hi everyone
I'm new to the forum and quite newbee in the hifi world too. I just bought an amazing old Marantz PM 450 amplifier from the 80's and got it restored, so it's in perfect shape. I want to get the best of it. In particular, I am not sure about the speaker's number of ohms. The speakers are also old fashioned JVC SP-E35BKE (I have had these since the 90's).
I made a few drawings on how I have it set up today and how I am planning to set it up later. Something to know is that there are 2 outputs: system 1 with a connection to a firt pair of speakers (left and right) and system 2 with where you can connect another pair of speakers (left and right). You can decide to have system 1, system 2 or both live.
I'd looooove your opinion on whether the way I am currently doing is ok and about my plans for the future (where system 2 speakers will be in a different room).
Thanks so much !!
Today's setup:
My question for you's: I'd like to be sure that the numbers of ohms of the speakers is appropriate to the amplifier. Knowing that I have the system 2 turned off on the amplifier, so I understand it's a 4~16 ohms on the amplifier side.
My plan for later:
I'd like to have a second pair of speakers in a different room. In the amplifier, you can select to listen either to system 1, system 2 or both. I will have use of all these 3 options.
Question: ideally what number of ohms should I have in my second set of speakers?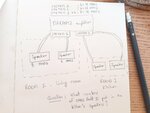 Third setup:
I have a third setup in mind, but I'll share later if I see I get answers